Genuine Toyota Car Batteries - Gullo Toyota Battery Replacement
Car batteries, while resilient, do need to be replaced after a few years as past of routine maintenance. However, not all car batteries are created equal--due to differences in construction and chemical composition, every battery offers different degrees of performance. If your vehicle has difficulty starting, has recently required a jump, has dimmed interior lights or your battery has simply outlasted its approximate three-year lifespan, stop by Gullo Toyota in Conroe, TX and near The Woodlands for a diagnostic test and battery or alternator repair.
Genuine Toyota Batteries: TrueStart™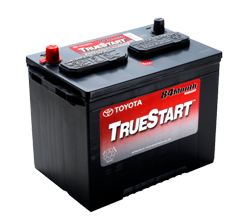 Toyota batteries are precisely engineered to deliver optimal performance year-round regardless of the weather. Batteries typically struggle to deliver adequate charge in the early morning due to colder evening temperatures (even in the warm Texan climate)--batteries with high cold cranking amps (CCA) have the ability to reliably deliver current despite colder temperatures. However, too high of a CCA rating can result in lower reserve capacity (RC), which allows for the long-term storage of charge produced by the alternator without quick charge dissipation. TrueStart™ Toyota batteries possess an ideal balance between CCA and RC, resulting in a battery that's robust, reliable, and long-lasting.
Gullo Toyota: Diagnose, Replace, Repaired!
Whether replacing an old battery, diagnosing a faulty alternator, or looking to keep your vehicle running as smoothly and reliably as possible, routine battery replacement and electrical diagnostics offered by Gullo Toyota ensure your Toyota remains on the road and running well. With years of service experience, our expert mechanics are equipped to maintain and repair your Toyota efficiently and expeditiously, getting you back on the road faster, and keeping you problem-free longer. Through our usage of Genuine Toyota TrueSmart™ batteries, we provide our customers with the highest quality parts to ensure complete satisfaction and the robust reliability associated with the Toyota brand. Stop by our dealership today to diagnose your vehicle, or for routine maintenance. Open six days a week, give us a call or use our online scheduler to set up an appointment! Call us Today 936--441-4141.