Toyota Windshield Wiper Blades Replacement in Conroe TX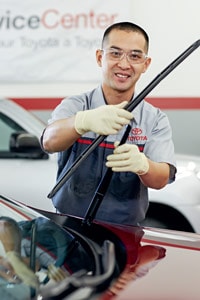 Your Toyota car, truck or SUV has a long list of different parts that all work together to deliver safe and reliable performance. But nothing lasts forever and you will need to replace parts from time to time to ensure ideal performance and one part that can easily get overlooked is your wiper blades. Now we know what you may be thinking, wiper blades are a small part that doesn't contribute to your Toyota's performance. However, without wiper blades that are in good condition, your field of vision is obscured and your not able to properly clear the window to see the road ahead. 
When it comes to getting new wiper blades for your Toyota car, truck or SUV be sure to make your way down to Gullo Toyota of Conroe. There are other parts stores around town for you to visit, but they don't offer genuine Toyota parts. Or have a team of Toyota parts specialists to help you. Genuine Toyota wiper blades are made for your exact Toyota model and have been fitted to the exact curvature of your windshield. This means that you won't have any streaking or squeaking. Genuine Toyota wiper blades are also quick and easy to install, priced to sell and have been extensively tested to meet Toyota's high standards.
You can order parts online, give our parts center a call or swing by Gullo Toyota of Conroe today. Also, don't forget to see what parts specials we are currently running to help you save on the best parts for your Toyota.