Brake Service & Repair At Gullo Toyota of Conroe
Nothing lasts forever and every once in a while your car, truck or SUV will be in need of some service and repair to ensure your vehicle continues to perform safely for many miles to come. And one of the most important services your Toyota car, truck or SUV will need from time to time is new brakes. Because properly function brakes are the most important safety feature your vehicle has to offer. But there is a number of components to your brakes that need to be inspected.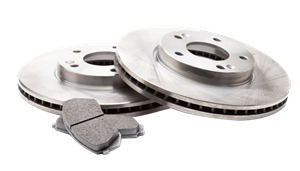 Brake Pads: Your brake pads are the most commonly replaced piece on your brakes because they are the part that grabs the wheel and applies stopping power. Your brake pads don't have a mile count before they need to be replaced but when there is less than 1/4 inch of pad left it is time for new pads.
Brake Rotors: The brake rotors are the part of your brakes that the pads clamp onto to bring your vehicle to a stop. Brake rotors have a varying lifespan and will need to be replaced anywhere between 15,000 and 70,000 miles depending on your driving habits.
Brake Fluid: Brake fluid or also known as hydraulic fluid is a non-compressible substance that lies within the brake lines and creates the pressure necessary to stop your vehicle when you step on the brake. Having your brake fluid changed frequently ensures there is always the right amount of pressure need to safely stop your vehicle.
When you bring your Toyota car, truck or SUV to our service center you are choosing the highest level of service and be quality parts. Not only is every member of our service team a factory trained technician but we only use genuine Toyota parts that come right from the factory. 
So if you hear a nasty grinding noise whenever you step on the brake be sure to call the service center here at 936--441-4141 or click here to schedule an appointment online at your convenience. Also be sure to check out our parts and service specials for amazing saving opportunities. Gullo Toyota of Conroe is proudly serving drivers from all over the Woodlands area